In the wonderful world of Fantasy anime we have a brand new refreshing entry into the already bursting fantasy anime niche
The Light novel "Nozomanu Fushi no Boukensha" (The Unwanted Undead Adventurer). Is the latest fantasy light novel to get the anime treatment
So what's it anout? 
Rentt Faina, a twenty-five-year-old adventurer, has spent a decade chopping at creatures. Rentt is stuck chasing slimes and goblins for tiny amounts of money every day despite his lack of ability for the profession. When he comes across a seemingly unknown way in the Water Moon Dungeon, he has no idea that everything is about to change.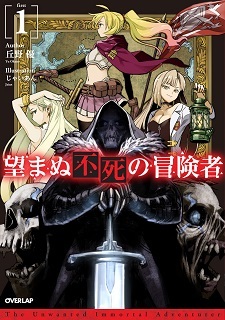 What he finds at the end of the journey, however, is not treasure or wealth, but a renowned dragon who swallows him whole right away! Rentt awakens a little while later, not quite dead, but not particularly alive eitherhe is nothing more than a pile of bones! Rentt starts out with nothing but his trusty sword, tool belt, and ghoulish new looks.
So what do you think? Are you going to check it out?
Okano began penning the adventure fantasy novel on the Shousetsuka ni Narou website in September 2016. Overlap began printing the novel with illustrations by Jaian the following October. The ninth volume shipped last June, with the tenth volume scheduled to go on sale on April 25. Nozomanu Fushi no Boukensha has a cumulative 1.4 million copies of its light novel and manga volumes in print, including digital editions.

Haiji Nakasone began drawing a manga adaptation on the Comic Gardo website in November 2017. Overlap released the eighth volume last November, with the ninth volume scheduled for an April 25 release.

J-Novel Club licensed both the light novel and manga adaptation in English in February 2018 and April 2019, respectively. The ninth novel volume and seventh manga volume went on sale in November and December last year.